Hello Adventurers,
Rogaining is the sport of cross-country navigation. You will have 6hours to collect as many points as possible on a map – can you get them all?
This trip has some bonuses from priors:
Yours Truly (Salomé) is organising this event. I've picked the Hash House location and some brand new catering elves. I can't compete though- I'll be herding cats …and UTSOAC.
There'll be complimentary hot breakfast (with optional extras to buy) and hot water for tea/coffee. Then hot mugs of pumpkin soup at the end.
Yours Truly hates the cold and will provide some fire drums for the cold unwashed masses.
The course even includes a climbing crag if you're planning to get some routes in the day before.
With terrain like this, it's practically 3 rogaines in one – lots of variety.
Paddy Pallin is the perfect rogaine to give the sport a try or practice with your team before Navshield and other more challenging events.
Entries close Jun14th, I'll try to sort out teams by the Friday before. Costs here: https://nswrogaining.org/2021-paddy-pallin/#
"There will be plenty of camping near the hash house on both Friday and Saturday night.
This course will have destinations and route options for the novice navigator up through the superhuman ultra-veterans.
The landscape features undulating grass plains, majestic pagoda "cities", hidden fern gullies, rough and tumble off roading tracks, former pine plantations, and Bungelboori Creek itself. There's plenty of flatter terrain and wide spurs for those favoring a scenic and relaxed stroll, and also some steep descents down into the distinctive towering rock features around the nearby creeks.
There are many tracks to help guide (and sometimes confuse), but the course is sure to take you off the beaten (mangled) track as well.
Some of the bushland was affected by the 2020 bushfires and you will see how it is quickly regenerating with explosive growth in some areas.
With 6 hours to cover the rugged and varied terrain, this one's sure to be a challenge for those wanting to try and clear the course.
ATTENTION MAP (AND CLIFF) NERDS
"For all those map nerds out there, we have generated all the contours from LiDAR data for this event so that they are super accurate.
We have also toyed with a number of ways to show the numerous cliffs in the area without reducing legibility. The result is a filtered rendering of the slope image generated from the LiDAR data. This means that we can show ground slopes from 60 – 75 deg graded in greyscale (white to black) and slopes greater the 75 deg as black. Below is a snippet of the map to whet your appetite.
You can see that small areas of grey in some places that indicate steep terrain and also small bits of black indicating localised cliffs."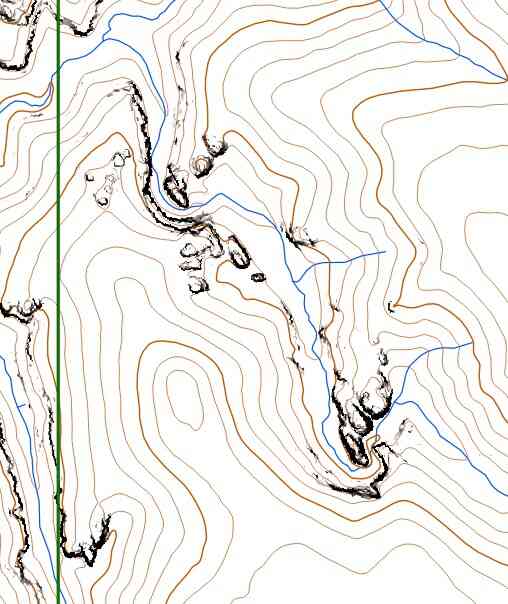 Bookings
Participants are closed for this activity.